Got an event you want to share with the world? Email tony [at] permaculture.co.uk and tell him about it. 
FREE LUNCH at Feeding the 5000 - London
18th November, 12:00pm - 2:00pm
Head down to Trafalgar Square this lunch time for a free lunch with 5000 other people! It will be made entirely of surplus food that would have otherwise been wasted. This event focuses on the huge amounts of food wasted in the UK, and highlights how easy it is to cut the amount of food that is sent to landfill.
Where? - Trafalgar Square
Website - http://www.feeding5k.org/ 

Laugh or the Polar Bear Gets It - London
18th November, 7:00pm

Green comedy event of the year! An amazing lineup with many of Britain's top comedy superstars. Confirmed performers include: Dan Antopolski, Greg Davies, Justin Edwards as Jeremy Lion, Richard Herring, Russell Howard, Josie Long, Francesca Martinez, Tim Minchin, Lucy Porter and Rob Rouse, with music from special guest Badly Drawn Boy.  Funds raised from the night will benefit our planet.  
Where? - HMV Hammersmith Apollo
Website - Friends of the Earth

The Fair Trade Market - Brighton
19th November (& 17th December), 11:00am - 4:00pm
Come down and route through fairly traded treasures from around the globe. There will be handloomed men's and women's shirts from Nepal; jewellery from Kenya, Chile and Mexico, art from Senegal, handknitted gloves and hats from Nepal; handmade cards; baskets from Rwanda; duvets from Fairly Covered; socks and clothing from People Tree and Pants to Poverty; silk from Cambodia, olive oil from Palestine; scarves from Tibet and Guatemala.
There will be plenty to eat in the cafe downstairs as well as delicious Cuban coffee and fair trade tea. Also, David and Eleanor from Say Cheese will be bringing tasty local sheep, goats and cows milk cheeses.
Where? - Friends Meeting House, Ship Street 
 Website - www.lovethatstuff.co.uk

Sustainable agriculture and urban gardens conference - Cuba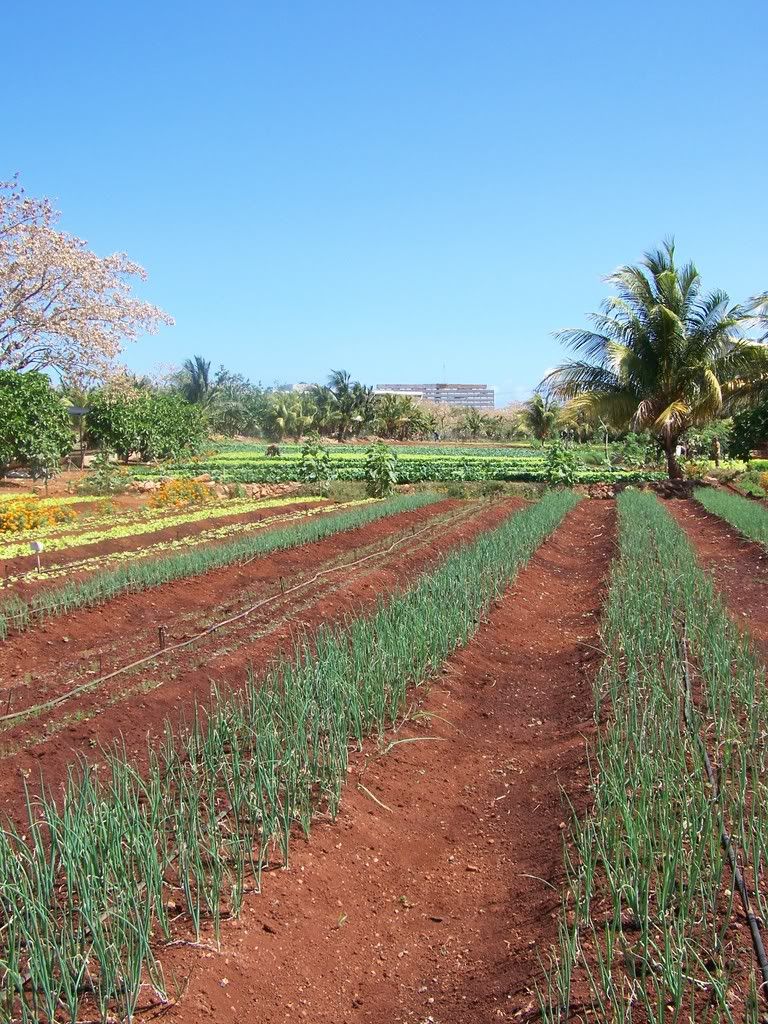 19th - 27th November

In the early 1990's, Cuba's agricultural system and food supply were decimated by the collapse of the Soviet Union. Due to the severe shortage of hard currency for the importation of chemical fertilizers and pesticides, Cuba was forced, in the early 1990's to begin to practice organic agriculture on a nationwide scale; There are currently tens of thousands of organic gardens in Havana alone and over a million across the country.
There are many organizations and associations in Cuba, governmental and nongovernmental, promoting the grassroots, organic and sustainable agriculture conversion. There are two tours of these being offered this November. One for those participants who have not studied organic agriculture in Cuba before and who are interested in the introductory program, one for those who have traveled with us before, or otherwise acquainted themselves with Cuba's remarkable work in organic agriculture, and who are read to get "deeper in." For the latter group, there will be an opportunity to participate in an Agroecology Conference in rural Havana province, visiting and working with, Cuban rural agriculturalists.
Global Exchange website - http://www.globalexchange.org/tours/1143.html
Eco Cuba Exchange website - http://www.ecocubaexchange.org 
Contact: [email protected] 

Fraser Valley Bald Eagle Festival - Mission, BC, Canada
19th - 20th November
This annual event has captured the attention of bird enthusiasts across the globe. The Fraser Valley Bald Eagle Festival celebrates the yearly return of one of the largest populations of over-wintering bald eagles in North America. The majestic raptors arrive to feast on the remains of salmon spawning in the Harrison and Fraser Rivers. In 2010 over 7000 bald eagles were counted in an area that covers only 2 square miles. Plenty of eagle watching opportunities, activities, environmental presentations, entertainment and adventures, including a jet boat eco-river tour and a river walking tour
Website: http://www.fraservalleybaldeaglefestival.ca

The Whale Movie Screening - Canada and Bermuda
18th - 20th November

This is a powerful true story of a young, wild killer whale - an orca - nicknamed Luna, who lost contact with his family on the coast of British Columbia and turned up alone in a narrow stretch of sea between mountains, a place called Nootka Sound. Luna was alone, but he didn't fade away. Contact between humans and Luna did not turn out to be simple. It was as if we humans weren't ready for him. He challenges preconceptions, from politics to science to the spirit, even making us rethink our most fundamental ideas about the nature of love and friendship. 
To find out about a screening near you, click here.